Red Zone Cooling and Heating LLC is a locally owned and operated company which strives to give back to the community. We firmly believe our best advertisement is by word of mouth. We know it's all about how we treat our customers, but it doesn't hurt that our prices are really competitive! We know that when you have to call us to your home or business, it isn't a good day for you. We promise to do our best to make the situation as easy and comfortable as possible. We want every homeowner and business to feel good about everything when we leave. The service, the repair, and especially the price! We hope to be your service provider for many years to come.

If you're already a customer, feel free to fill out our survey and let us know how we are doing!

Thank you for visiting and we hope you have a great day!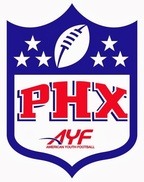 Phoenix American Youth Football (AYF)
Check out our community partner Phoenix AYF!
Phoenix AYF is a non-profit organization that constantly strives to provide a safe and fun environment
for kids to learn, grow, and have amazing experiences in their lives.

A BIG thank you goes out to ASU for their partnership with this wonderful organization!

Check back soon for photos from the PHX AYF 7 on 7 Challenge. Our kids played at Sun Devil Stadium!

---